Oma māhū wai
Aqua Jogging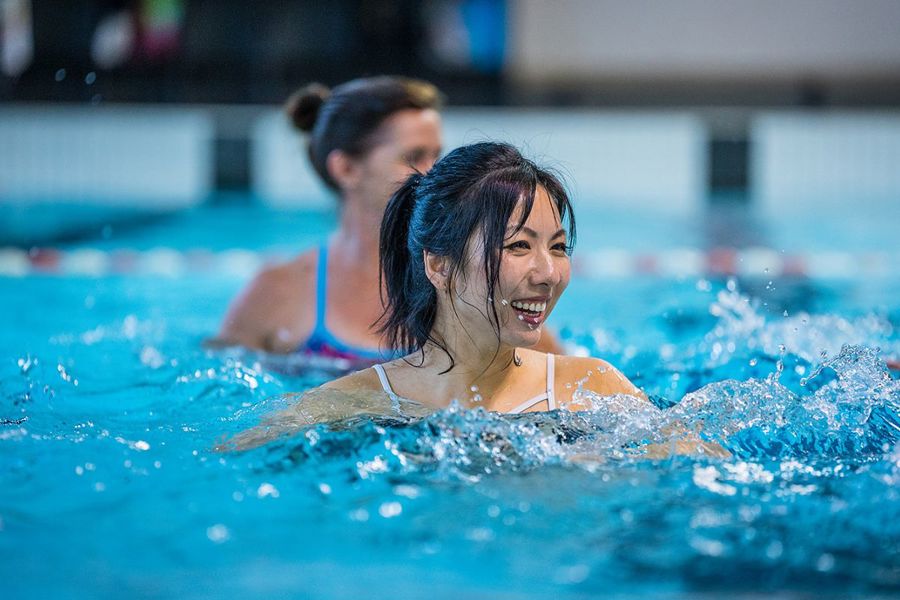 Experience a unique and effective form of exercise that combines the benefits of water resistance with the motion of running. Aqua jogging, also known as water running, is a low-impact workout that provides a multitude of advantages for individuals of all fitness levels.

Aqua jogging is available at all our indoor pools subject to lane availability, no prior booking is required. Please see individual centre's pages for more information.

Standard pool entry fee applies.

Adult single pool entry *#

$6.70

Adult pool multi-visit pass - 10 visits *#

$60.30

Adult pool multi-visit pass - 20 visits *#

$120.60

* A 25% discount is available for Community Services and Super Gold cardholders for casual entry and multi-visit passes.
# A 50% discount is available for Hāpai Access and KiwiAble Leisure card holders for casual entry and multi-visit passes.

What is Aqua Jogging?

Aqua jogging is a form of exercise that mimics the movements of running on land, but in a pool. It involves wearing an aqua belt (buoyancy belt) to maintain an upright position in the water while performing a running motion. By reducing the impact on joints, aqua jogging offers a safe and gentle alternative for people recovering from injuries or seeking a low-impact cardio workout.

Benefits of Aqua Jogging

Low-impact and joint-friendly - The buoyancy of water significantly reduces the impact on joints, making aqua jogging an ideal choice for individuals with joint pain, arthritis, or those recovering from injuries. It allows for a cardiovascular workout without the stress often associated with land-based activities.

Total body workout - Aqua jogging engages multiple muscle groups simultaneously. The resistance provided by the water adds an extra challenge, requiring the use of muscles in the arms, legs, core, and back. This full-body workout helps improve strength, endurance, and flexibility.
Cardiovascular conditioning - Aqua jogging provides an excellent cardiovascular workout, elevating the heart rate and improving cardiovascular endurance. It effectively burns calories, contributing to weight management and overall fitness.
Rehabilitation and recovery - Due to its low-impact nature, aqua jogging is frequently used as a rehabilitation tool. It aids in recovery from injuries, such as stress fractures, sprains, and joint surgeries, by providing a controlled environment for gentle exercise.
Variety and cross-training - Aqua jogging offers a refreshing change of pace from traditional land-based workouts. It serves as an excellent cross-training option for runners, athletes, and fitness enthusiasts, allowing them to maintain conditioning while giving their joints a break from high-impact activities.