Work with us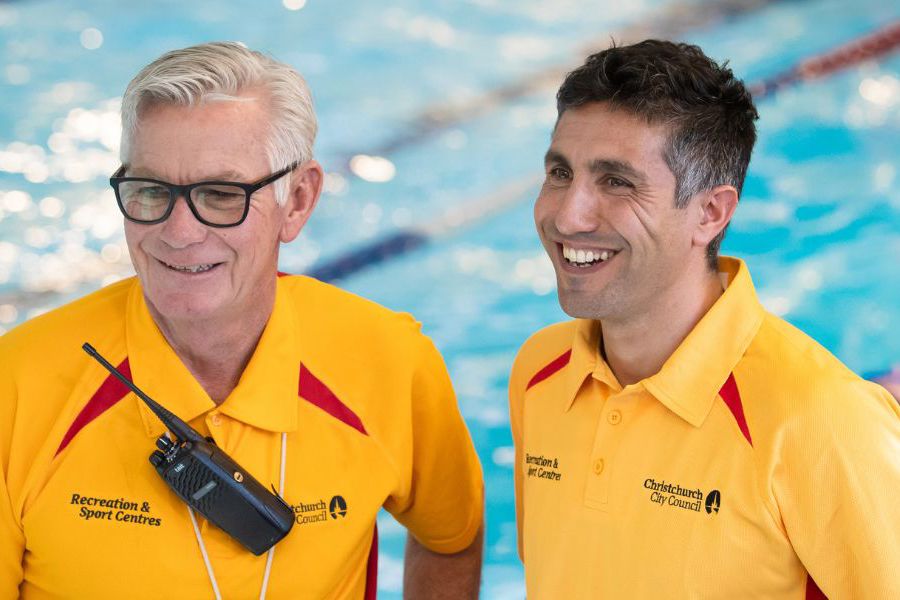 At Christchurch City Council we're driven by our passion for building a better future. Our communities, our people and our environment are at the heart of what really matters to us.

We're looking for people who want to make a difference, people who enjoy working with others to get things done. Is that you?

When you join us you're getting personally involved in shaping our city's future, its communities and environment.

Keen to join the team? Fill out your details below and we'll be in touch.

Lifeguards

Join our Aquatics team and take your love for swimming pools to the next level!

Lifeguards play a key role in supporting community members to achieve their health and wellness goals. We build great relationships with our pool users and are well-trained to respond to any emergencies. We work in large teams of like-minded people, and love what we do!

As a lifeguard, you will learn to communicate with a diverse range of customer groups and have the ability to stay calm in busy and pressured situations. We'll provide all the training needed to become a NZ qualified Pool Lifeguard.

Keen to join the team? Excellent customer service is one of our top priorities and you'll share our vision, making sure every customer who enters our facility has a great time with their whānau and friends and leaves with a smile on their face. You will be a capable swimmer and have the ability to stay calm in busy and pressured situations.

Customer experience

No two days are the same in these front-line roles at Christchurch Recreation and Sport. It's not just about customer service, it's about the customer experience.

As someone who has a genuine love for helping others and is solutions-focused, you'll deliver high-quality services and information to maximize our customer experience.

We work together to create game-changing experiences, for the community who visit our facilities. It is all about the customer journey and experience!

Fitness

Join our team of highly motivated fitness professionals, who are experts in the delivery of fitness services, classes and programmes.

Fitness instructors are responsible for providing fitness programmes and assessments to meet individual customer needs. Group fitness instructors are passionate about fitness and lead a wide variety of group fitness classes - from high intensity interval training, to yoga and aqua gentle.

Our centres have a diverse range of customer groups that require customer focused individuals with strong interpersonal communication skills. If you are a hard-working dynamic individual who can work well both individually and in a team, have a high level of customer focus and are prepared to go the extra mile for customers then we want to hear from you!

Swim education

Are you customer-focused, passionate about the importance of learning to swim and do you enjoy seeing others reach their potential?

Our Learn to Swim programme teaches children and adults valuable life skills and our instructors are responsible for maximising their aquatic learning experience.

We offer a nationally recognised qualification, continuing on-the-job and quarterly trainings. Each teacher can feel confident knowing that before teaching your own classes, you'll have the opportunity to shadow and learn the skills you need to change the lives of your students.

We ask a lot of our instructors, as they are required to set the energy for each class and are always on alert, however in return you are valued for the amazing work you do. Our experienced leaders have swum the hard yards and know the energy, effort and passion that goes into every single lesson.

Job satisfaction is different for everyone, but when you see the smile on the children's faces after they succeed in your class, we promise that feeling is priceless!

Activities and Events

The Activities and Events team love to go the extra mile. We are fun people who love to help others have as much fun as we do.

We are the go-to point for customers and support the delivery all of the events that are held in our facilities around the city, including basketball tournaments, pool parties and Tumbletimes.

The Activities and Events team are responsible for maximising the customer experience in our facilities. We get involved in opening and preparing the stadium and other Recreation and Sport facilities, including set up and pack down of equipment.

If you have a can do attitude and have a passion for providing recreation and sport activities and events for our community, we want to hear from you!